Welcome to Eric Heerspink Ceramics
Next Update December 9 at 1pm est: This year marks the 40th anniversary of Return of the Jedi, so to celebrate the November Update will consist of all ROTJ characters. All the main characters will be there as well as some new ones: Including a Force Ghost Obi-Wan with glow in the dark lines. I will be opening up the work 10 minutes early for mailing list subscribers. From 12:50 to 1 the site will be password protected. At 1 you will be able to enter the store normally. So be sure to subscribe so you don't miss out on the pieces you want.
Be sure to sign up for the MAILING LIST to get all the information about new characters and when new work will be available.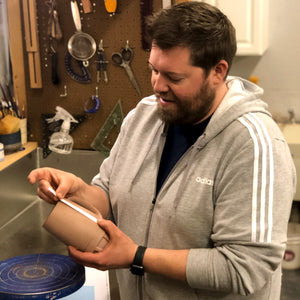 About Eric Heerspink Ceramics
Eric is a ceramic artist living and working from his studio located in Jenison, Michigan. In his functional ceramic work, Eric addresses the Star Wars monoculture through the use of forms, shapes, patterns, and colors that reference the familiar aesthetic of Star Wars and its subsequent sequels.
His work is made using various ceramic techniques, such as wheel throwing and slip casting. Each piece is hand decorated with slips and glazes. Through this process, pieces are created that are uniquely one of a kind. Each piece is fired in an electric kiln to 2150 degrees Fahrenheit. 
Every piece is designed to be used and enjoyed. To this end, all the work is food safe. Bring a little piece of a Galaxy Far Far Away into your everyday with an Eric Heerspink original piece.